Chemische Fabrik Karl Bucher GmbH was established in the early 1970's and is one of today's leading manufacturers of specialty Silanes and Organic Intermediates. During our more than 30 year history we have successfully developed an innovative and practical range of silylating agents and other organic intermediates for the chemical synthesis industry in close collaboration with global producers of pharmaceutical and agrochemical actives.
In addition to organosilicon chemistry, CFKB has developed strong expertise in fluorine, acetylene, iodine, and Grignard chemistry. The experience and know-how we have built up over more than 30 years of challenging organic synthesis enables us to respond rapidly to customer inquiries for new compounds.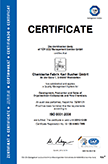 With approximately 90 employees, we produce a range of more than 100 products in our modern facilities at our site in Waldstetten, South Germany; from laboratory up to large commercial scale. Versatility and innovation in product development, customer service, and careful attention to product quality are key and central to our business philosophy and practices. Being a relatively small company which is still owned and run by the founder, Mr. Karl Bucher and his family, has enabled us to maintain high flexibility that allows us to provide special services and tailor-made solutions to our customers.
Click on Image to download
certificate in pdf format
Due to the highly specialized nature of our business, our customer relationships are extremely selective and important to us; we are selective and careful to ensure that mutual capabilities and expectations are defined and met in every case. We enjoy a prestigious customer base which includes many of the major international pharmaceuticals and agrochemical producers and their sub-contractors. We strive for the complete satisfaction of all our customers and are pleased to develop custom solutions whenever we can.
It is our goal to continuously improve the quality of our products and services by close collaboration
with our customers to build a reliable, mutually beneficial long term relationship.
[widgetkit id=14]